Follow the steps below in your Track PMS system in order to get the information required for a transition. You will need to find your Domain Name, Server Key, and Server Secret Key.
Retrieving Domain Name (Endpoint) and setting up the Key Data Channel:
Configuration (Gear Icon) > PMS Setup > Distribution Channels > + Channel
Channel
Name: Key Data
Reservation Mode: Confirmed Reservation
Reservation Type: Normal Paying Guest
Reservation Settings
API Settings
Enable Nodes API: CHECK
All Units Available: CHECK
All Reservations Available: CHECK
Allow Custom Pricing: CHECK
Reservation Mode: Electronic (Credit and E-Check)
Payment Method: LEAVE BLANK
Pet Settings
Pets Mode: Aquire Approval
Notification Email: LEAVE BLANK
Click "Save Channel"
Edit Channel > API Key
"Endpoint" should be visible: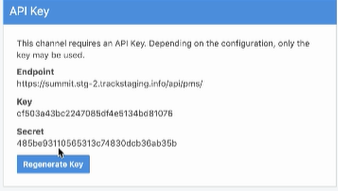 ---
Retrieving Server Key and Server Secret Key:
Configuration (Gear Icon) > Company Set Up > API Keys > + Server Key